With the recent passing of Darryl Dragon, I'd like to relate a few memories I have of Darryl before his fame as The Captain, half of the duo The Captain and Tennille who had a couple monster hits in the 1970's.  Darryl first came into our office around 1970 looking for horn players when he was the sideman keyboardist for the Beach Boys.  When I asked why he didn't go to the Musicians Union office, he told me that the Union just used a phone book style registry, not actual resumes where he could read about the musicians, so he preferred our method instead.  I was a little embarassed because we had so few brass players to offer, but did give him some sax players.
About a year later Darryl walked in again, this time seeking a female vocalist for a duo project.  He had very specific requirements and was very exact about what he was looking for.  He came in several times and we talked quite awhile.  He related stories of growing up in Malibu as the son of Carmen Dragon, conductor of the LA Philharmonic..  He poured through the resumes of singers, (all in a large notebook), taking notes on which vocalists he was planning to audition.
Another year passed and Darryl showed up again, this time looking for a drummer for his duo, now called The Captain and Tennille.  I know it may be hard to read, but his original ad written on January 7, 1975, is displayed below.  He explains that session drummer icon Hal Blaine played on their recent recording at A&M Records of "The Way I Want To Touch You", but he was now seeking a permanent drummer to join the group and start gigging.  Here is what he wrote at the bottom of his ad:
"I worked for the Beach Boys for 6 years – I made $40 a day on the road as keyboard player with NO retainer and I call that dedication – please – understand that this kind of dedication to our group is really a necessity – since we are very fair with you if you're fair to us.  I came back to the Musicians Contact because they are responsible for our duo meeting – I hope that we can now meet a new drummer too!"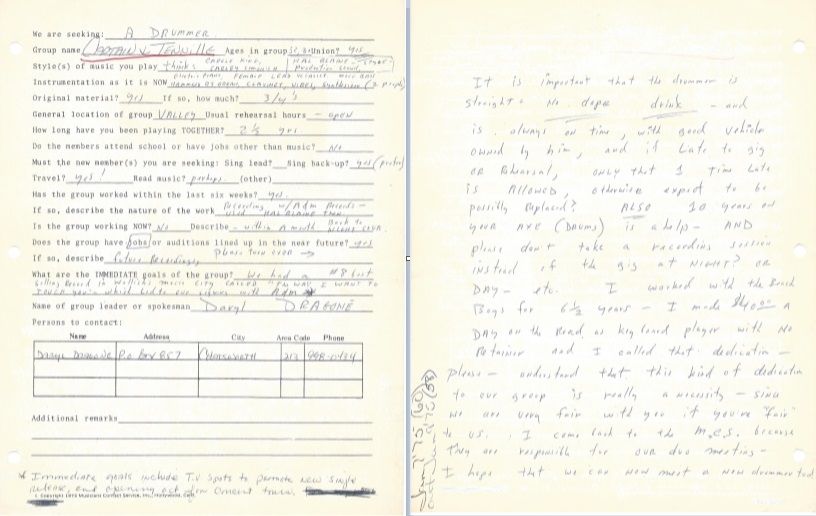 So you can see not much has changed in 45 years, dedication is still most important to band leaders.  Their huge hit "Love Will Keep Us Together" was released just 4 months later, and it stayed #1 for a few weeks, winning a Grammy for Record Of The Year.  Many other singles and albums and a variety TV show on ABC followed.  Not positive, but I believe the drummer they hired from us was Chris Augustine.  The Captain and Tennille were married in late 1975 and stayed together for 39 years.
Read a little more history:
https://www.musicianscontact.com/famous-past-members