Greta Van Fleet has been selling out concerts in North America and Europe and finally released their full length album, after two previous EP's.  They've all been hitting the charts at #1.  When was the last time a new young rock band was able to accomplish this?  And think about it – they're younger than The Beatles or Stones when they first became super popular!  But at ages 19-21 they can be considered "old pros", because they started gigging at clubs and biker events when they were 14, playing 3 hour sets.
It's great that we now have all these "schools of rock" to teach kids how to rock n roll like their dads did, (or wish they did).  But most of their instruction simply copies the great rock acts of the past.  Couldn't r&b, pop, or country be just as fun and/or challenging for these kids to learn?  Greta Van Fleet didn't attend a rock school and whether you think they remind you of Led Zep or not, you must admit they're really tight and talented.  If an agent went around to all of the rock schools I'm sure he/she could hand pick the most outstanding players and create some incredible young bands.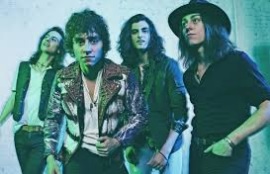 What I'm hoping is that maybe, just maybe, Greta Van Fleet kicked the door open a bit and radio stations will be more apt to play other new groups.  Perhaps an army of new bands will enter the scene, sort of like the British invasion in days of old.  Maybe new young guitar and drummer heroes will become household names once more.  And maybe younger guys playing covers of these new bands will find a niche of clubs where they can get paid to play, (also like in the days of old).  And maybe it will jumpstart a live local music scene and get fans going to clubs again, not just big name concerts.  Or am I dreaming?  Yes?  No?